Early Preview of Wimbledon Tournament in 2022
Novak Djokovic is still the favorite to win Wimbledon for the sixth time after losing in the quarterfinals of the French Open to Rafael Nadal.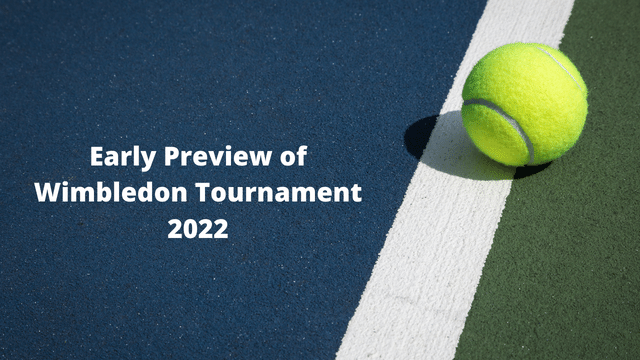 Due to the nature of the tennis calendar, the players will have little chance to remove clay stains from their socks before switching surfaces and mentalities for the grass-court season, which concludes, as it usually does, at Wimbledon. This is due to the fact that the grass-court season begins immediately after the clay-court season concludes.
In reaction to Wimbledon's decision to prohibit Russian and Belarussian players owing to the invasion of Ukraine, the ATP and WTA have agreed not to grant ranking points at this year's competitions. This is a substantial departure from prior championships.
Rafael Nadal and Iga Swiatek have several of reasons to be upbeat as they prepare for fresh challenges and switch from clay to grass shoes.
The enthusiasm around Nadal's record 14th Roland Garros triumph and record 22nd Grand Slam championship has strangely overtaken the reality that he is already halfway to his desired calendar-year Grand Slam. For the first time in his career, he has won the first two grand slams.
It will be difficult for him to win Wimbledon and the US Open while also dealing with chronic pain in his left foot, but it is almost certain that he will never have another opportunity to repeat the feat, which was last accomplished by Rod Laver in 1969 and which Novak Djokovic came within one match of accomplishing just last year.
Nadal was unable to compete in Wimbledon last year due to injury, but his team has stated that he would make every effort to be healthy for this year's event. Clearly, the Spanish superstar is also planning for the future. "I'm not sure what will happen in the future," he continued, "but I'm going to fight to stay alive." I have no idea what will happen in the future.
To restore his reputation as the favorite to win Wimbledon, Djokovic must overcome the disappointment of his loss to Nadal. Djokovic has six Wimbledon championships to his name.
Some players, including world No. 2 Daniil Medvedev and former women's No. 1 Victoria Azarenka, will be unable to compete, while others will be vying for a Grand Slam championship. It is, however, a significant leap, as they discovered in Roland Garros.
Because of an injury, Alexander Zverev is unlikely to compete; however, Stefanos Tsitsipas, Denis Shapovalov, Andrey Rublev, and Matteo Berrettini, who finished second in the men's event last year and has returned from injury, will compete and hope to do well. Then there's Andy Murray, who has won this tournament twice previously.
Coco Gauff will look to continue on her spectacular run to the final in Paris, while Emma Raducanu, who won the US Open last year, will have added pressure in her home country.
After Ash Barty announced her retirement, the Wimbledon title is suddenly up for grabs. Naturally, this assumes Swiatek isn't in the way.
Also Check: Wimbledon Schedule 2022