Where To Watch Wimbledon 2018 in London (On The Big Screen)
Wimbledon is not only a match but the most exquisite Grass Court Lawn Tennis event that calls for a celebration, not only in the UK but also in some parts of the world. June is finally here and we are all excited about this event scheduled to take place between 2nd to 15th July. What makes it even more interesting is watching it with other fans all over London. That being the case, you don't have to stay indoors glued on your TV screens as you can make the event lively and meaningful by watching with others on giant screens and below is a collection of where to watch Wimbledon 2018 in London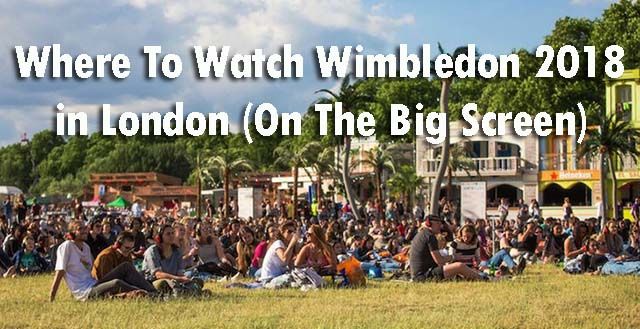 Where To Watch Wimbledon 2018 in London
The Piazza, Wimbledon
It goes without saying that nothing could be more exciting than watching Wimbledon in Wimbledon Town. When you come here, you hear thwarting and grunting of the game coming live from the Wimbledon court which is just a distance away, and this triggers your excitement. To make it even more interesting, the place has an arrangement that comes with various seating and you can choose the one that suits you. Delicious food is served along different snacks meaning that there is everything for everybody. There is no entry fee and therefore, come and grab a place and enjoy watching your favorite game on a giant screen.
BlueBird Chelsea
BlueBird Chelsea is a restaurant, café, and a bar located in Kings Road, London. You may wonder how boring it could be to watch Wimbledon indoors, but the good news is that the giant screen for the game is well placed in their courtyard. Once you get here, look for the best place and keep your eyes on the screen so you won't miss a single serve and smashing hit from your idol. Special arrangements have been made for the finals where a three-course menu will be served for only £75.
Lewis Cubitt Square, Kings Cross
Lewis Cubitt Square is a food and drink joint located near Kings Cross Railway Station. The place is amazing with deck chair already set for the audience to watch Wimbledon as they relax under the sun and enjoy every move of the game on a giant screen.
Cardinal Place in Victoria, London
Cardinal Place in Victoria, London is the most favorite place among many. When you come here, you are spoilt of choices on where to sit as you watch this enthralling game. If you don't like sitting on a stool, deck chairs are also available but if you are afraid you can break them when celebrating, you can sit on the grass which is a very enjoyable seat given freely by nature, and have all the fun you want with your loved ones. There is no entry fee required and you don't have to worry about your stomach because foods and drinks are provided affordably for everyone.
BST Hyde Park
BST Hyde Park is yet another place where you can enjoy every bit of Wimbledon on a giant screen. As the name suggests, BST Hyde Park is an open park with a giant screen facing the ground to give you the happiness you deserve while watching Wimbledon in front with fans on your every side. This place stands out due to the presence of singers and musicians who sing their hearts out to soothe you as you watch the game on the big screen.
Skylight, Tobacco Dock
Skylight is a rooftop bar which is located at Tobacco Dock. This is the definitely the best place to spend your summertime as you enjoy this fascinating Wimbledon screening. There is no entry fee and your stomach is well taken care of with plenty food and drink option for you to choose from according to your taste. In addition to watching the game live with other fans, the place takes care of your boredom by providing other games such as petanque or croquet which you can play between sets.
Duke of yoke square
There's nothing more interesting than watching Wimbledon with your loved ones soaking up the atmosphere at Duke of York Square. This place is also the right place for grass lovers given that the giant screen takes centre court where you can make yourselves comfortable on as you enjoy the warmth of nature while enjoying drinks and foods from nearby stalls and restaurants.
Pop fields
If you are around Brixton, you don't have to let this enthralling game pass you by, and you don't have to be glued on your television as Pop Fields are 800-capacity field where you can make yourself comfortable. It has a giant screen where you can watch every bit of the game without external disturbance, and to make it even more interesting, it's an extension of Pop Brixton meaning that there are several food stalls and bars that ensure you don't get hungry in the midst of the game.
Merchant Square
Merchant Square will live-stream Wimbledon from the first game until the finals. The place has a giant screen on the lawn where you and the people close to you can enjoy every bit of the game as you cheer up your favorite player. The screen runs until 10 pm, and therefore, this makes it an ideal place to enjoy your summertime.
New street square
New street square is yet another place where you can bag yourself a deckchair and enjoy watching live tennis on a big screen. When you come to this place, you find other tennis lovers and enjoy chatting and cheering up your favorite players.
Granary square
Tennis lovers are very lucky because Granary Square takes care of their needs by showing all the actions of Wimbledon on a big screen. If you don't have a close person to watch all the actions as they happen, don't worry as you will find other fans who will keep you company and make every moment lively.
Final thoughts
The clock is ticking and Wimbledon, the game many people have been waiting for is around the corner. It has always been a one of a kind event which you can't miss. Instead of watching it all alone, make it lively and more interesting by joining other fans across London and watch every bit of the game on a big screen. If you want to watch Wimbledon 2018 live online read details info here